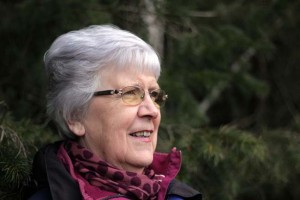 I have spent all my working life with the NHS and studied the sciences rather than the arts. On leaving work I took up art and have been painting now for nearly twelve years.
Having had no formal training I have attended several excellent adult education classes. My work is extensively in watercolours and initially I began work in Botanical Illustration, however more recently I have been painting birds in a similar detailed style.
The flowers are painted from the live plants, but birds are not so accommodating. I love the delicacy in colour and form that can be achieved only with watercolour paint.
Prints and cards are also available for sale from my original paintings.
I am a member of the Allestree Art group, where I won their Max Bryce Trophy Award for outstanding  artistic achievement in 2014.
My work has been exhibited locally at the following venues:
2019
Ashbourne Festival Summer Art Exhibition, Derbys
The Sock Gallery Open Exhibition, Loughborough, Leics. (Summer & Winter Exhibitions)
Melbourne Arts Festival Trail, Derbys
Derbyshire Open Arts Competition, Buxton, Derbys
Arts Melbourne Pop up Gallery, Derbys
2018
Ashbourne Festival Summer Art Exhibition, Derbys
Kedleston Hall, Derby, with Allestree Art Group
The Sock Gallery Open Exhibition, Loughborough, Leics
Melbourne Festival Art Trail, Derbys
Derbyshire Open Art Competition, Buxton, Derbys
2017  
Belper Art Festival Trail, Derbys
Leabrooks Gallery, Somercotes, Derbys
Ashbourne Festival Summer Art Exhibition, Derbys
Kedleston Hall, Derby, with the Allestree Art Group
The Sock Gallery Open Exhibition, Loughborough, Leics
Melbourne Festival Art Trail, Derbys
2016
The Sock Gallery, Loughborough Town Hall, Leics.
Derby Museum and Art Gallery Exhibition – "Everyone"
Ashbourne Festival Summer Art Exhibition, Derbys
Melbourne Open Arts Exhibition, Derbys
Dame Catherine Harpur Arts Exhibition, Ticknall, Derbyshire
2015
Belper Arts Festival Trail, Derbys
Ashbourne Festival Summer Arts Exhibition, Derbys
Dame Catherine Harpur Arts Exhibition, Ticknall, Derbys
2014
Carsington Water Visitor's Centre, Derbys – a joint exhibition with Felicity Jackson
Melbourne Open Arts Exhibition, Derbys
Dame Catherine Harpur Arts Exhibition, Ticknall, Derbys
2013
Hulland Ward Art Exhibition, Derbys
Wilsthorpe Community Arts Exhibition – (receiving award for best in Show)
Hartington Open Arts Exhibition, Derbys
Radbourne Art Exhibition, Derbys
Melbourne Open Arts Exhibition, Derbys
Dame Catherine Harpur Arts Exhibition, Ticknall, Derbys
2012  
Kedleston Hall, Derby, with the Allestree Art Group
Melbourne Open Arts Exhibition, Derbys
Dame Catherine Harpur Arts Exhibition, Ticknall, Derbys
Awards
2013 Wilsthorpe Community Arts Exhibition – winner of the "Best in Show" award
2014 Allestree Art – winner of the Max Bryce Trophy Award for the "Best in Show"
for outstanding artistic achievement
Media
Watercolour
Subjects
Animals, Botanical Illustration, Flowers And Gardens, Still Life, Trees and Foliage, Wild Flowers, Wildlife